Spending in lockdown: a guide for everyday Ken Behrens
By Rebecca Hollis, Financial Adviser of Milestone Financial
Finance seems to come to the front of our mind when we are in these situations and with the first week of lockdown ending here in the ACT, it may be a good time to think about a few tweaks you could be making to your budget.  While financial wellbeing is important, it is also important to focus on your mental wellbeing, an area that can be often overlooked, below are some tips to help ease financial stress during lockdown.
1. Bills: while some of your expenses might be reducing it may be worth setting aside some of those savings. Being at home more means that our power bills are likely to increase, causing a potentially nasty surprise for the end of the quarter. Setting aside some money as a 'Bill buffer' can help you out of an uncomfortable spot without having to dip into your emergency funds or go into additional debt.
2. Event Cancellations: Many Canberrans were caught off guard with new restrictions and have been forced to cancel or reschedule events. If this has happened to you, it is important to know your rights as a consumer and what you may be intitled to. Many venues have been extremely accommodating, but if you would like to look into your rights you can visit the Australian Competition & Consumers Commission (ACCC) webpage where they have some additional guidance on your rights in relation to cancellations caused by COVID-19 restrictions'*.
3. Pausing memberships: With Gyms also being part of the lockdown restrictions many have already informed their members their fee freeze policies. If you have had no communication and are still being charged, it may be worth while to contact your gym to see what can be done. This stands for any membership fees you are continuing to pay but have been unable to access the service.
4. Online Shopping: This can be a hard temptation to resist but online shopping can also have additional bonuses we may be overlooking. Often when we go groceries shopping, we head to our local Coles or Woolies and get everything in one place for convenience. Grab your shopping list and a cup of coffee (or wine) and use different shops online options to look for the best deals and overall savings. Placing your order online can not only help save money, it can also help you avoid physically going into the shops by having your order delivered or doing click and collect.
*COVID-19 (coronavirus) information for consumers, https://www.accc.gov.au/consumers/consumer-rights-guarantees/covid-19-coronavirus-information-for-consumers#gym-memberships
Milestone Financial Services ABN 68 100 591 508 trading as Milestone Financial is an Authorised Representative of AMP Financial Planning Pty Limited, ABN 89 051 208 327 AFS Licence Number 232706, Level 8, 33 Alfred Street, Sydney NSW 2000, Australia.
This document contains information that is general in nature. It does not take into account the objectives, financial situation or needs of any particular person. You need to consider your financial situation and needs before making any decisions based on this information. The examples used are illustrative only and are not an estimate of the investment returns you will receive or fees and costs you will incur.
If you decide to purchase or vary a financial product, your financial adviser, Milestone Financial Services Pty Ltd and other companies within the AMP Group may receive fees and other benefits. The fees will be a dollar amount and/ or a percentage of either the premium you pay or the value of your investment. Please contact us if you want more information on (02) 6102 4333.
CONTACT US FOR FURTHER INFORMATION OR TO MAKE AN APPOINTMENT


Contact us
Address: 12A Thesiger Court, Deakin ACT 2600

Phone: 02 6102 4333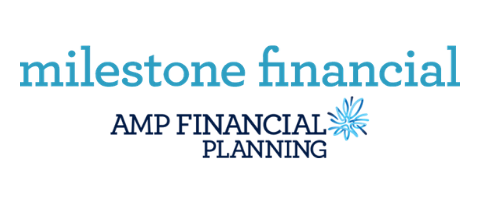 Milestone Financial Services Pty Ltd
(ABN 68 100 591 508) is an Authorised Representative and Credit Representative of AMP Financial Planning AFSL 232706