BORROW MONEY
Home and investment loans, business loans and construction loans through a wide range of lenders.

MILESTONE LENDING IS PART OF THE MILESTONE GROUP



Milestone Financial is not just a financial planning business. We also have a dedicated Milestone Lending Team who are licensed through many different lenders, allowing them to find competitive rates on home loans, investment property loans and car leases.
Milestone's dedicated mortgage brokers are able to assist you with the following products, through a variety of bank and non-traditional lenders:
– Home Loans
– Investment Loans
– First Home Buyer loans
– Mortgage Offset Accounts
– Construction Loans
Milestone Lending have access to a wide range of lenders.  Give us a call about your lending needs.
PROPERTY INVESTMENT ADVICE IN CANBERRA



Australians love to invest in property and there are some great reasons why:
It's tangible – It is an investment that can be seen and touched
Discipline – It makes you set aside funds regularly
Tax benefits – Often the taxation benefits provide 40% or more of the ongoing contribution towards the investment of holding a property
Tenants Pay Rent – which helps significantly with cash flow
Phantom Cash Flow – On many properties, there are additional taxation benefits available from Depreciation Allowances. This provides additional tax benefits, further assisting with cash flow
Easy To Understand – Well at least the basics are – buy a property, rent it out, watch it grow – simple! Simplistically this is right, and many have successfully invested in property by doing it themselves. However there are tips and traps that are essential to be aware of, before jumping in and purchasing a property. Milestone takes decades of property experience and distils this into a straightforward, step by step process to ensure the best chance of success.
Time Proven – It has been said that the wealthy either make their money in property or hold their wealth, once made, in property. Property investments over the longer term have provided outstanding returns.
Leverage – Using the bank's money allows for a larger investment than would normally be achieved using just cash funds. The lending ratios are often more generous for property investments than for shares and other investments. This leverages/magnifies/gears the returns – both positive and negative. Getting the right finance in place is essential to ensuring the best possible outcome from the investment.
Harder To Buy and Sell – While this may sound like a disadvantage, it can also benefit the investor in that there is less chance of making knee-jerk reactions, especially when selling. Often investors don't stick with a share investment long enough to reap the returns. They are tempted to jump in and out with market movements. This is not usually the case with property investments.
Property In Super – It is now possible to purchase an investment property in a self-managed superannuation fund with borrowings.
There are a number of risks involved with investing in property. Some are more easily managed than others, which is why obtaining good advice is so important. Contact Milestone Financial if you would like to explore whether investing in property is a strategy for you.
CONTACT US FOR FURTHER INFORMATION OR TO MAKE AN APPOINTMENT


Building Solid Financial Foundations
Manage your cash-flow, get in control of your spending and deal with your debt with Milestone's FREE report!
Redundancy can be a time to celebrate a fresh start that perhaps you could have taken years ago.

Contact us
Address: 12A Thesiger Court, Deakin ACT 2600

Phone: 02 6102 4333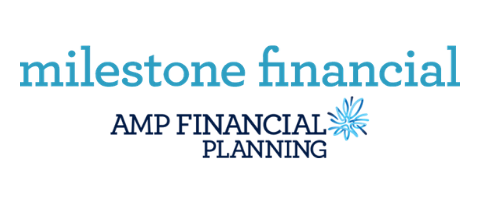 Milestone Financial Services Pty Ltd
(ABN 68 100 591 508) is an Authorised Representative and Credit Representative of AMP Financial Planning AFSL 232706