SHOULD YOU SALARY SACRIFICE INTO SUPER
OF COURSE I TRUST YOU – POWER OF ATTORNEY EXPLAINED 
REVIEW OF 2021, OUTLOOK FOR 2022 – RECOVERY TO CONTINUE AS WE HOPEFULLY LEARN TO LIVE WITH COVID
THE GAME CHANGER COMING INTO SUPERANNUATION
COMPOUND INTEREST IS LIKE MAGIC – AND IT IS AN INVESTOR'S BEST FRIEND 
FOUR KEY RISKS TO CONSIDER FOR A COMFORTABLE RETIREMENT
WHAT THE COVID REOPENING MEANS FOR THE ECONOMY
VALUATIONS ARE AT ALL-TIME HIGHS-IS IT TIME TO SELL? T.I.N.A. SAY NO!
BEYOND COVID: THE OUTLOOK FOR INVESTMENT MARKET
A BOOK REVIEW ON LIMITLESS: UPGRADE YOUR BRAIN, LEARN ANYTHING FASTER, AND UNLOCK YOUR EXCEPTIONAL LIFE
SHOULD YOU USE PROPERTY TO FUND YOUR RETIREMENT
OUTLOOK ON THE STIMULUS MEASURES POST COVID
THE EFFECT OF COVID-19 ON THE AUSTRALIAN ECONOMY SO FAR
GREAT INVESTMENT QUOTES FOR TOPSY TURVY TIMES
CAPITALISING ON THE COVID-19 RECOVERY

SPENDING IN LOCKDOWN: A GUIDE FOR EVERYDAY KEN BEHRENS
SUPER RULE CHANGES STARTING 1ST JULY 
WHAT IS CAPITAL GAINS TAX AND WHEN MIGHT I HAVE TO PAY IT?   
YOUR GUIDE TO THE SUPER GUARANTEE (SG) AND RATE CHANGES
HOW MUCH SUPER SHOULD I HAVE AT MY AGE? 
GENDER AND PERSONAL FINANCES 

SIX WAYS COVID-19 MIGHT CHANGE YOUR BUSINESS (FOR THE BETTER) 
FEELING BLUE ABOUT YOUR DEBTS?
ARE YOU ELIGIBLE FOR SCHOOL SUBSIDIES?

7 KEY CHARTS FOR INVESTORS TO WATCH REGARDING THE GLOBAL ECONOMY AND INVESTMENTS MARKETS THIS YEAR

HOW TO HAVE A GOOD RELATIONSHIP WITH YOUR RETIREMENT
IS $1 M ENOUGH TO RETIRE?
TIPS FOR PARENTS WHO BECAME THE BANK OF MUM AND DAD

CLOSE TO 85% OF LOANS NO LONGER ON HOLD BECAUSE OF COVID-19
MORE AUSSIES LOOK TO BUY PROPERTY AND REFINANCE

OLIVER'S INSIGHTS – REVIEW OF 2020 & 2021 OUTLOOK
(from pandemic to recovery)
WHY IT PAYS TO REVIEW YOUR COVER
3 GOLDEN RULES THAT MAKE SAVING FOR RETIREMENT EASIER 

HOW FINANCIAL ADVICE CAN HELP
5 WAYS TO SHOP A LITTLE SMARTER THIS CHRISTMAS

HOW TO IDENTIFY (AND BEAT) YOUR SPENDING TRIGGERS

CREATE AN 8 WEEK CHRISTMAS SAVINGS PLAN
THREE WAYS TO HELP FUTURE-PROOF YOUR CAREER IN 2020
WAYS TO USE YOUR TAX REFUND FOR A STRONGER FINANCIAL FUTURE

THINGS TO AVOID AS A NEWBIE INVESTOR
WHAT KIND OF MONEY PARENT ARE YOU?
DIGITAL PAYMENTS AND ONLINE BANKING FOR OLDER AUSTRALIANS
CHECKLIST FOR THE END OF FINANCIAL YEAR
DIVERSIFICATION – WHY IT MATTERS MORE THAN EVER

HOW DO YOU SAVE FOR THAT RAINY DAY?
HOW INVESTMENT MARKET VOLATILITY COULD AFFECT YOUR SUPER
MYTHS ABOUT LIFE INSURANCE
GIFTING AND FINANCIAL GENEROSITY DURING CORONAVIRUS
PRESERVING RETIREMENT SAVINGS DURING COVID-19

HOW TO CREATE REALISTIC GOALS AND STICK TO THEM
CHANGES TO MINIMUM PENSION INCOME STREAM PAYMENTS IN RESPONSE TO CORONAVIRUS

PLANNING FOR HEALTHCARE COSTS IN RETIREMENT
DEALING WITH BEING ASSET RICH AND CASH POOR
SUPERANNUATION CONTRIBUTIONS
RESIST TODAY, RELAX TOMORROW


GROW YOUR SUPER IN THE NEW YEAR
5 DAYS TO GET YOUR FINANCES IN ORDER
MILESTONE'S INVESTMENT APPROACH
WHAT LOW-INTEREST RATES COULD MEAN FOR YOU
SEPTEMBER 2019 MARKET OVERVIEW

ACT NOW TO PROTECT YOUR SUPER
Contact us
Address: 12A Thesiger Court, Deakin ACT 2600

Phone: 02 6102 4333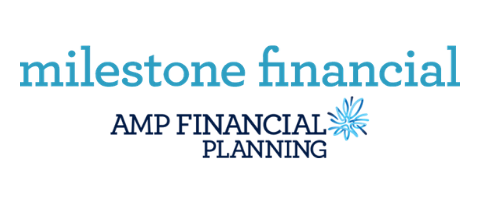 Milestone Financial Services Pty Ltd
(ABN 68 100 591 508) is an Authorised Representative and Credit Representative of AMP Financial Planning AFSL 232706