MILESTONE'S INVESTMENT APPROACH
Complex research and development
Milestone has constructed a range of investment portfolios to suit our clients' needs for returns, income and investment risk. Rigorous processes and complex research has gone into the development and monitoring of these portfolios. We thought we'd tell you a bit about the portfolios and how we've put them together.
Investment portfolios based on your goals
We have constructed several key portfolios which are based on investor's needs and goals. These include:
Low cost Index portfolio. This aims to track the indices of the main asset groups including Australian and international equities, fixed interest and property. This portfolio generally provides a cost-effective 'core' for other Milestone portfolios.
High Conviction portfolio. This aims to provide exposure to a range of managers that have a high level of discretion to allocate and change investments within their portfolios. The goal of this portfolio is to generate increased returns in line with the investor's attitude to risk.
Income focussed portfolio. This aims to provide a higher level of income relative to a standard portfolio. This could benefit investors who want additional income to supplement their salary. Retirees who rely on investment income and superannuation pensions could also benefit.
Core Satellite portfolio. This offers a Core Index portfolio, with a smaller allocation to the High Conviction portfolio. This combination aims to suit investors who want to have a core of investments that aim to achieve index returns, but are supplemented by higher conviction managers with the possibility to enhance their returns.
Core/Index ETF (Exchange Traded Funds) portfolio. This aims to provide a lower cost portfolio based around a diversified fund for each investor risk profile, with a range of low cost ETFs forming satellite funds.
Buckets portfolio.

This aims to allocate investment assets to specific timeframes, in order to meet investors income and capital requirements. Generally this type of portfolio suits retirees who have an Account Based Pension.

Ethical portfolio. This aims to provide exposure to Ethical funds or funds that fully disclose their holdings.
Milestone's Investment Committee
Milestone has put together a team of experts to construct and monitor our investment portfolios. All funds included in Milestone's portfolios are also monitored by AMP's research team.
How does the investment committee operate?
Milestone's Investment Committee meets approximately every six weeks or more regularly when particular issues arise. Committee members regularly meet with fund managers to discuss their performance and fund strategies. The Committee also reviews general economic and markets issues such as the state of Australian and international markets and various leading indicators.
The Committee reviews the portfolios regularly but generally looks at specific funds and their allocation in the portfolios. The funds within the model portfolios must be on the AMP approved product list, be rated 'buy' by AMP, and rated recommended or highly recommended by Lonsec Research. The funds must also be appropriate for the portfolio.
Based on all of this information the Committee determines if a fund manager stays on the portfolio or is replaced by a more appropriate manager.
Milestone Financial Services ABN 68 100 591 508 trading as Milestone Financial is an Authorised Representative of AMP Financial Planning Pty Limited, ABN 89 051 208 327 AFS Licence Number 232706, Level 8, 33 Alfred Street, Sydney NSW 2000, Australia.
This document contains information that is general in nature. It does not take into account the objectives, financial situation or needs of any particular person. You need to consider your financial situation and needs before making any decisions based on this information. The examples used are illustrative only and are not an estimate of the investment returns you will receive or fees and costs you will incur.
If you decide to purchase or vary a financial product, your financial adviser, Milestone Financial Services Pty Ltd and other companies within the AMP Group may receive fees and other benefits. The fees will be a dollar amount and/ or a percentage of either the premium you pay or the value of your investment. Please contact us if you want more information.
CONTACT US FOR FURTHER INFORMATION OR TO MAKE AN APPOINTMENT


Contact us
Address: 12A Thesiger Court, Deakin ACT 2600

Phone: 02 6102 4333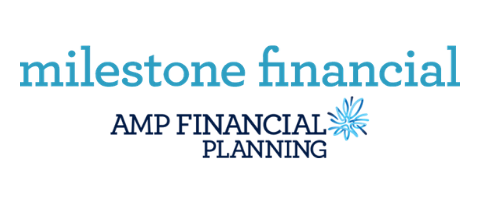 Milestone Financial Services Pty Ltd
(ABN 68 100 591 508) is an Authorised Representative and Credit Representative of AMP Financial Planning AFSL 232706