ACT NOW TO PROTECT YOUR SUPER
New laws were recently introduced to help protect the superannuation balance of members. If you have more than one superfund with insurance benefits, these rules may apply to you.
'Protect your super' package
The protecting your super laws target inactive accounts which have attached insurance policies. It means that if you've got more than one super account, and your contributions are not being made into an account which has the insurance benefits, you are at risk of losing your benefits.
The thinking is that insurance premiums reduce the balance of your account, and if the insurance is not required, it's an unnecessary expense. However, if you have an 'inactive account' and you dont respond to communications sent by your fund, your insurance benefits may be cancelled.
What accounts are classified as 'inactive'
Your account will be classified as inactive if:
You have a balance under $6,000;

the fund hasn't received any contributions into your account over a continuous 16 month period; and

you haven't made any active changes to your account. This might include changing your investment option, insurance coverage or binding beneficiary nomination.
Opt-in to avoid the insurance being cancelled
If your account is classified as inactive, you should have received a letter from your fund asking you to opt into the insurance benefits. This is a one-off activity, which requires you to either:
log onto your online account and click a box,

return a form or

call the super fund direct.
Act before 1 July
If you do not opt-in to the benefits, your insurance may be cancelled on or after 1 July 2019. So we urge you to respond to the communication you receive from your fund as soon as possible.
Some things to consider before deciding
By doing nothing, you will lose your insurance cover or any ability to make a claim.

You can claim for premiums paid in advance

If your insurance is cancelled, you will no longer pay an insurance premium from this account.

By no longer having life insurance (also known as death cover), your dependants or other beneficiaries will not receive the insurance benefit inside this account if you die (as covered by your policy).

By no longer having disability insurance, you will not receive any benefit if you become disabled due to illness or injury (as covered by your policy).

It can be complicated for certain people to get insurance cover. For example, if you have a pre-existing medical condition or are aged 60 or over. So, by cancelling your existing policy you may not be able to reinstate this cover (to the same benefit level) or get insurance elsewhere at the same premium.
Contact Milestone if you need assistance
We are here to help, so please contact Milestone on 02 6102 4333 if you are unsure about whether you want to keep your insurance benefits in your super fund.
Milestone Financial Services ABN 68 100 591 508 is an Authorised Representative of AMP Financial Planning Pty Limited, ABN 89 051 208 327 AFS Licence Number 232706, Level 8, 33 Alfred Street, Sydney NSW 2000, Australia. This document contains information that is general in nature. It does not take into account the objectives, financial situation or needs of any particular person. You need to consider your financial situation and needs before making any decisions based on this information. The examples used are illustrative only and are not an estimate of the investment returns you will receive or fees and costs you will incur.
If you decide to purchase or vary a financial product, your financial adviser, Milestone Financial Services Pty Ltd and other companies within the AMP Group may receive fees and other benefits. The fees will be a dollar amount and/ or a percentage of either the premium you pay or the value of your investment. Please contact us if you want more information on (02) 6102 4333.
CONTACT US FOR FURTHER INFORMATION OR TO MAKE AN APPOINTMENT


Contact us
Address: 12A Thesiger Court, Deakin ACT 2600

Phone: 02 6102 4333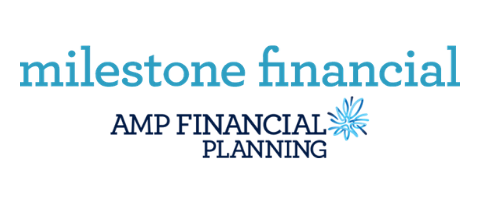 Milestone Financial Services Pty Ltd
(ABN 68 100 591 508) is an Authorised Representative and Credit Representative of AMP Financial Planning AFSL 232706